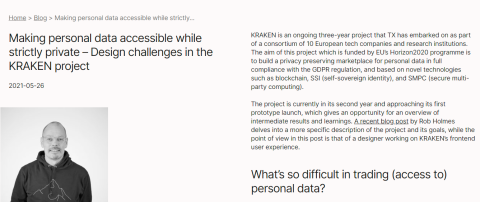 KRAKEN has been included in the blog published by our partners of TX company. 
The TX is a software development company Sujuwa, established in 2007.  
TX was born out of market demand. Through listening and learning what the market was asking for, it became clear that enterprises wanted to have a choice between the public instance of the Streamr technology stack and their customized dedicated instances. Furthermore, they wanted advice on topics like blockchain, decentralization, and data economies.
Article titled: Making personal data accessible while strictly private – Design challenges in the KRAKEN project. 
This publication explains:
What's so difficult in trading (access to) personal data?
The KRAKEN design approach
How to apply design to empower the users and smoothen the user-experience
Tackling the project risk with the detailed market knowledge
Read the full article in the link below.